So End of a Year is a band from Cohoes, NY, a suburb of Albany, which is also close to where I live. I saw this band a few times back in 2005, which I'd define as "early" EOAY, and they've since gone on to release records on Revelation and Deathwish. I haven't seen them since, but they've morphed into one of my favorite bands. Anyway, I found these two really early releases, so I thought I'd share them: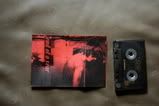 END OF A YEAR- WARM (DEMO)


Early demos are sort of a music form in themselves. They usually represent some dudes just learning how to play together, and they usually contain songs written before the band really knows how to write songs. This demo is much more straightforward than anything the band has done since, so the whole Revolution Summer influence everybody mentions with EOAY is really prominent here. Still, it contains a few really raw, sweet moments, most notably "Hey," a great song which was recorded for
Disappear Here
but honestly sounds better on here.
d/l
END OF A YEAR- DISAPPEAR HERE
They rerecorded four or five of the best

Warm

jams for this and added about as many originals. The songwriting definitely had reached a more advanced stage, and the album as a whole has a little ambition to it. The recording is still raw as hell, which I really like, and it's debatable which is better, this or

Sincerely

, which is a compliment to either LP.

d/l



Sincerely

is available for purchase or download in an earlier post.